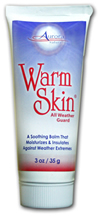 Warm Skin has always been my choice of protection from the wind and cold!  It allows my skin to breathe, doesn't get on  my clothing, and it works!  I used it during the extremely cold Birkie a few years ago and avoided all frostbite!!  I also have Reynauds and use it as an additional layer on my hands and feet!
Warm Skin® is a very effective cream for moisturizing and insulating the skin. Torture-tested in such diverse climates as the North and South Poles, the Grand Canyon, and Mt. Everest.
Warm Skin® protects the skin from the effects of cold, wind, wet and dry weather. Even in summer, Warm Skin guards against the drying effects of water, sun, wind, and heat.
Warm Skin® serves as a barrier from moisture loss from within, and as a barrier to cold from outside, reducing the risk of frostbite, cracked and dry skin.
Use good judgment and Warm Skin® in addition to your normal protective attire for the prevailing conditions. It is like an extra layer of insulation.
Warm Skin® is not only for hands; this thick cream can be used on the face, torso, legs, hands, arms, and feet. Rub Warm Skin into the skin before and after exposure.
Keep out of eye area. If you get product in your eye, tearing may occur. If so, thoroughly rinse the affected area with lukewarm water.
Warm Skin® is great for cold and callused feet, especially after a warm bath.
Warm Skin® is rich but not greasy. Warm Skin is absorbed into the skin, yet lets the skin breathe. It does not cause pimples.
Warm Skin® has water-repellent properties, but it will wash away. Re-apply after skin is dry.
Warm Skin® works well over or under a sunscreen. We recommend using appropriate SPF sun protection based on individual need.
Super Bowl players brace for wintry mix    Peter Barzilai@ByPeterBarzilai
USA TODAY Sports
Super Bowl XLVIII weather report
for East Rutherford, N.J.:
The weather outside is:
There is snow on the ground and
the possibility of more throughout
the week. As for Super Sunday,
the forecast calls for a chance
of a wintry mix during the day
and clearing by the evening, With
the game scheduled to begin at
6:30 p.m. ET.
Worst case: If the forecast
worsens, the NFL has said it
needs 24 hours to change the
time of the game and 36 hours to
change the day.
How I stay warm: "Warm
Skin," said Denver Broncos safety
David Bruton, referring to a
cream the makers say moisturizes
and insulates the skin. He
said.he also used Vaseline. "I can't
say a little. I did a lot," Bruton
said of the game at the New England
Patriots on Nov. 24, when
the wind chill index was 6 degrees.
"I covered every part I possibly
could. … All over. There
wasn't a place untouched."
How I stay warm II: "Don't
let the cold weather get you," said
Broncos linebacker Wesley
Woodyard. "Once you get to the
Source AccuWeather; ESRI
USA TODAY
point in the mind that you're
cold, that's when it gets you. So
you've just got to block it out."
Embrace it: As long as they
can clear the fields at their team
headquarters in Englewood,
Colo., the Broncos practice outdoors,
regardless of inclement
weather.
"We'd love to play in 70-degree
weather," said Denver cornerback
Champ Bailey, a IS-year veteran
who is playing in his first title
game. "But if you tell me it's 20
degrees and I am playing in the
Super Bowl, I'm going to take it."
Contributing: Wire reports
LINDSAY H. JONES USA TODAY SPORTS
The Broncos, huddling up in November during a practice in
Englewood, Colo., are familiar with inclement weather.