I have had a chance to try both the warm skin and the lung plus, including on some days with truly frigid subzero cold!
The lung plus is really an amazing contraption! I normally have significant cold induced coughing and wheezing due to bronchospasm, and on cold days this can be enough to limit my activity…or worse yet, send me back indoors. With the lung plus, I would estimate that my coughing is reduced by at least 80%, making it a virtual non-issue. Even better, I feel that the bronchospasm is much less severe as well. I only rarely need to use my rescue inhaler, and I am able to ski and snowshoe for much longer periods of time.
I really like the simple but elegant design of this product…much like the fresh air exchanger on our house. It also seems very durable, yet is comfortable to use.
The warm skin seems to work very well as a skin protectant. I have used it on my hands and also around my nose, and have enjoyed its pleasant and non greasy texture. As a dermatologist who suffers from both psoriasis and atopic dermatitis, I have personally tested virtually EVERY OTC moisturizer there is. This one is a keeper!
I do have asthma… exacerbated by cold and exercise. I am a recreational cross counrty and snow shoe enthusiast as well an avid winter hiker (when the snow is not too deep). I plan to continue to use the lung plus to allow me to be active even on the coldest days, and to allow me to spend more time outdoors and less time sitting inside complaining about the weather!
Dr. Ben Yokel, Dermatologistfrom Cotton, MN
Today in beautiful New Hampshire it was a sunny 37* outside. We are getting Spring fever and Cora was itching to get outside. We normally cannot go outside for more than 15 minutes at this temperature. Today we applied Warm Skin lotion and layered her clothes to enjoy some time outside. To our utter amazement, Cora stayed outside for five hours without reaction!!!! I repeat, WITHOUT reaction! I am in tears as I write this because this is a miracle! We even got to ride her bike with her friend using the Lung Plus. A bike ride! 37*! Unbelievable! Today with premedication, Warm Skin and Lung Plus, my 5 year old got to be a kid and play outside…for HOURS! I feel such relief and gratitude. Life is good. Get out and enjoy it…we are!
Cora 5 year old with Cold Urticaria
"Lungplus has made a big difference in my ability as a skier with asthma. The warm air delays the onset of any breathing problems much longer than trying to choke through the cold. It also just helps keep my body feeling better for longer, and even helps keep the rest of my body warm. It's really easy to get used to as well. "
Joe Rauzi – One of Duluth East Nordic team's top male
"Yesterday I skied in colder temps  for 2+ hours.  Normally I would be coughing and wheezing both yesterday and today (the day after).  I wore the lungs plus the entire time during my ski and I believe it has made a difference.  A week ago when the temps were at zero with a brutal facial wind.  Another gentlemen was ahead of me and was not able to breathe and stopped skiing to catch his breath.  I was able to ski right through.  I have bronchial asthma and thought cold skiing days was something I needed to avoid.  I feel the lungs plus allows me to enjoy one of my favorite sports  "
 Steve Verboomen- WI
Miserable? Nope. I'm using my handy new Lungplus air re-circulator and doing just fine.
Over the years I got to be quite a connoisseur of soap. My personal preference was for Lux, but I found Palmolive had a nice, piquant after-dinner flavor – heady, but with just a touch of mellow smoothness. Life Buoy, on the other hand.
Michael Jorgensen- MN  Sorry he's sideways…it shows up straight and keeps going in sideways!!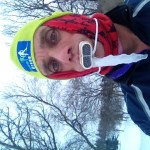 "The Lungplus works great for my asthma and when I have a cold. The only time it doesn't work is when I don't use it."
Liam Diekmann Bozeman MT
The lungplususa is amazing!  It is allowing me to XC ski this winter especially with the very cold air!  I have asthma and use my inhaler when XC sking but that is not enough.  The lungplususa makes my lungs happy and let's me be outside without consequences.  It is easy to use and does not restrict air flow!   I love it!
Janine Boldra Wisconsin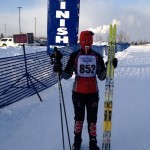 It gets very cold here in Idaho. (For example, the school district has a standing policy that it will cancel school when it hits -20F actual temp, and once when the windchill was -30F they cancelled). In order to make it through winter, we have had to learn to live with the cold and find ways to make it fun. But up until this past winter, any time the air temperature hovered at or below 0F, or if there was a cold winter wind blowing, I had to either stay inside or end up coughing all night long. It was extremely frustrating since my "out" during our long winter months is nordic skiing. I tried face masks of all sorts, but invariably I'd inhale cloth or the masks would ice up, or I'd end up with fogged-up sunglasses (have to wear them to see, too cold for contacts). The wind and cold trigger my cough variant asthma. Breathing treatments, inhalers, and steroids can all help, but it takes days to recover, the side effects can be nasty and besides, it's inconvenient. And costly. Although the "abs workout" from over-coughing is nice and all, after too many days (and sleepless nights) it just hurts too much. Late last fall, I saw an advertisement for the Lungplus. I was dreading another winter of constant coughing but was not willing to give up skiing, so I was eager to try anything. And if it worked, it was cheaper than a round of steroids!
Lo and behold, it worked! Now, when it is bitter cold or windy, I can use the Lungplus and breathe as easily as if I were in a warm room. Instead of fighting my coughing all winter long, I can now prevent it from starting in the first place. It's really amazing. If I have a cold coming on, I can usually still ski in cold temperatures and not exacerbate my lungs (I only had one bad spell this winter, but that was due to a virus everyone got here). Airflow with the Lungplus is not inhibited at all, which really surprised me. I can take long deep breaths (with no coughing!) and exhale just as easily. I don't care at all what I may look like if it means I can function normally and get a good ski in, no matter the weather. It's been a fabulous addition to my ski equipment. Thank you!
Stephanie
Rexburg, Idaho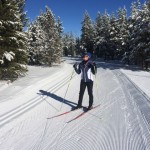 Skied with a Lungplus today for the first time. 1 degree outside and I'm breathing warm air. This thing rocks.
Gini from Duluth, MN NO breathing issues, just enjoyed it!